Some planned events may be cancelled due to COVID-19. Outdoor parks, trails and amenities are open during lockdown. There is a gathering limit of 25 people at all outdoor locations and people not in the same household must maintain a physical distance of 2 m from others. Team sports may not be practised or played and no activity which brings individuals within 2 m of another person (not from the same household) is allowed. Indoor Township recreation and cultural facilities are closed to the public. Visit Discover Uxbridge for more information.
We can help you plan your next trip to Uxbridge, the Trail Capital of Canada. Visit Discover Uxbridge for trail information, as well as a complete list of attractions, accommodations, events, and other visitor information.
Visitor information
Whether you are interested in information about our trails, upcoming events, or our tourist sites, you can find everything at Discover Uxbridge.
Tourism Ambassadors
If you prefer to visit us in person, we have ten Tourism Ambassadors located throughout downtown Uxbridge with maps, brochures, and helpful staff who are ready to answer your questions and help you navigate your time here. Meet our Tourism Ambassadors:
Look for the Tourism Ambassador sign in the windows of our Tourism Ambassador sites. Alternately, you can contact our Tourism office by email or give us a call at 905-852-0400.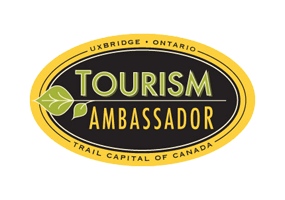 Parking information
Learn all there is to know about parking in the Township of Uxbridge before you visit. We offer public parking and street parking options. Find parking near our tourist attractions.
Contact Us