We can help you plan your next trip to Uxbridge, the Trail Capital of Canada. Visit Discover Uxbridge for trail information, as well as a complete list of attractions, accommodations, events, and other visitor information.
Visitor information
Whether you are interested in information about our trails, upcoming events, or our tourist sites, you can find everything at Discover Uxbridge. Alternatively, browse the 2021-2022 Uxbridge Visitor Guide to learn more about the Arts, Culture, Attractions, Outdoor Activities, Shopping or Dining available within the Township.
Tourism Ambassadors
If you prefer to visit us in person, we have ten Tourism Ambassadors located throughout downtown Uxbridge with maps, brochures, and helpful staff who are ready to answer your questions and help you navigate your time here. Meet our Tourism Ambassadors:
Look for the Tourism Ambassador sign in the windows of our Tourism Ambassador sites. Alternately, you can contact our Tourism office by email or give us a call at 905-852-0400.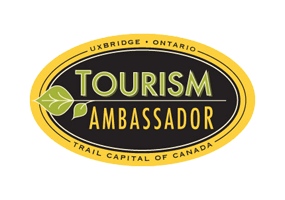 Parking information
Learn all there is to know about parking in the Township of Uxbridge before you visit. We offer public parking and street parking options. Find parking near our tourist attractions.
Contact Us