Posted on Tuesday, May 05, 2020 04:57 PM
Local residents, organizations and all levels of government are assisting residents and businesses within the Township of Uxbridge.
Local support to assist vulnerable residents:
List of local businesses providing modified services:
https://uxbridgedaily.com/buisnessdirectory

Walmart Uxbridge and Zehrs Uxbridge provide health-vulnerable and seniors-only shopping hours from 7-8 am daily

Vince's Uxbridge provides order picking, curbside pickup or home-delivery service

Several pharmacies...
Posted on Thursday, May 28, 2020 12:48 PM
Uxbridge Township Board & Committee Appointments 2018-2022
The Council of the Township of Uxbridge invites applications from members of the public who are qualified electors of the Township of Uxbridge who wish to have their names considered for appointment to the Uxbridge Downtown Revitalization Committee for the remaining term of Council (expiring Nov.30, 2022). This committee will act as an advisory committee for the Uxbridge Downtown Revitalization Project that will deliver a Vision, a Strategic...
Posted on Thursday, May 28, 2020 11:57 AM
The May 28th issue of the Township page 2 from the Cosmos newspaper.
Posted on Tuesday, May 26, 2020 12:37 PM
Street sweeping update - May 26th.
Both the northwest and southwest quadrants have been completed, and work has begun in the northeast quadrant. Please try to avoid parking on the streets during this time. Sand may be raked into the curb/gutter prior to street sweeping, but please do not leave in piles or pails as it will not be picked up. Any missed areas due to parked cars will be redone after all sweeping is complete.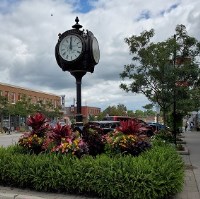 Posted on Tuesday, May 26, 2020 11:35 AM
The Region of Durham, in collaboration with local business improvement areas (BIAs), have launched a new online platform—Downtowns of Durham—to support the region's vibrant downtown-area businesses.
Downtowns of Durham will offer residents and visitors a chance to explore the region's many "main street" shops, restaurants, and services virtually, as they recover. From historic storefronts to family owned restaurants, each of Durham's 13 distinct downtown areas are home to a diverse range of small...
Contact Us