Posted on Thursday, September 10, 2020 10:25 AM
THE CORPORATION OF THE TOWNSHIP OF UXBRIDGE
NOTICE OF COMPLETE APPLICATION AND PUBLIC MEETING CONCERNING AN APPLICATION FOR A ZONING BY-LAW AMENDMENT FOR AN EXTENSION OF A TEMPORARY USE
This Notice is to inform you that the Township of Uxbridge has received a Zoning By-law Amendment application which has been deemed complete in accordance with the requirements of Sections 34 and 39 of the Planning Act. The Planning Committee of the Council of the Corporation of the Township of Uxbridge...
Posted on Tuesday, September 01, 2020 08:48 AM
Whitby, Ontario – The Region of Durham invites you to celebrate Bike Month by taking part in a series of fun and educational cycling activities throughout the region. From September 1 to 30, residents are encouraged to explore Durham's unique landscapes and scenic trails while practising safe cycling.
Where: Visit durham.ca/BikeMonth to register for a series of local activities including educational webinars, a cycling photo scavenger hunt, a cycling panel discussion and Ride4United Way.
Why: Bike...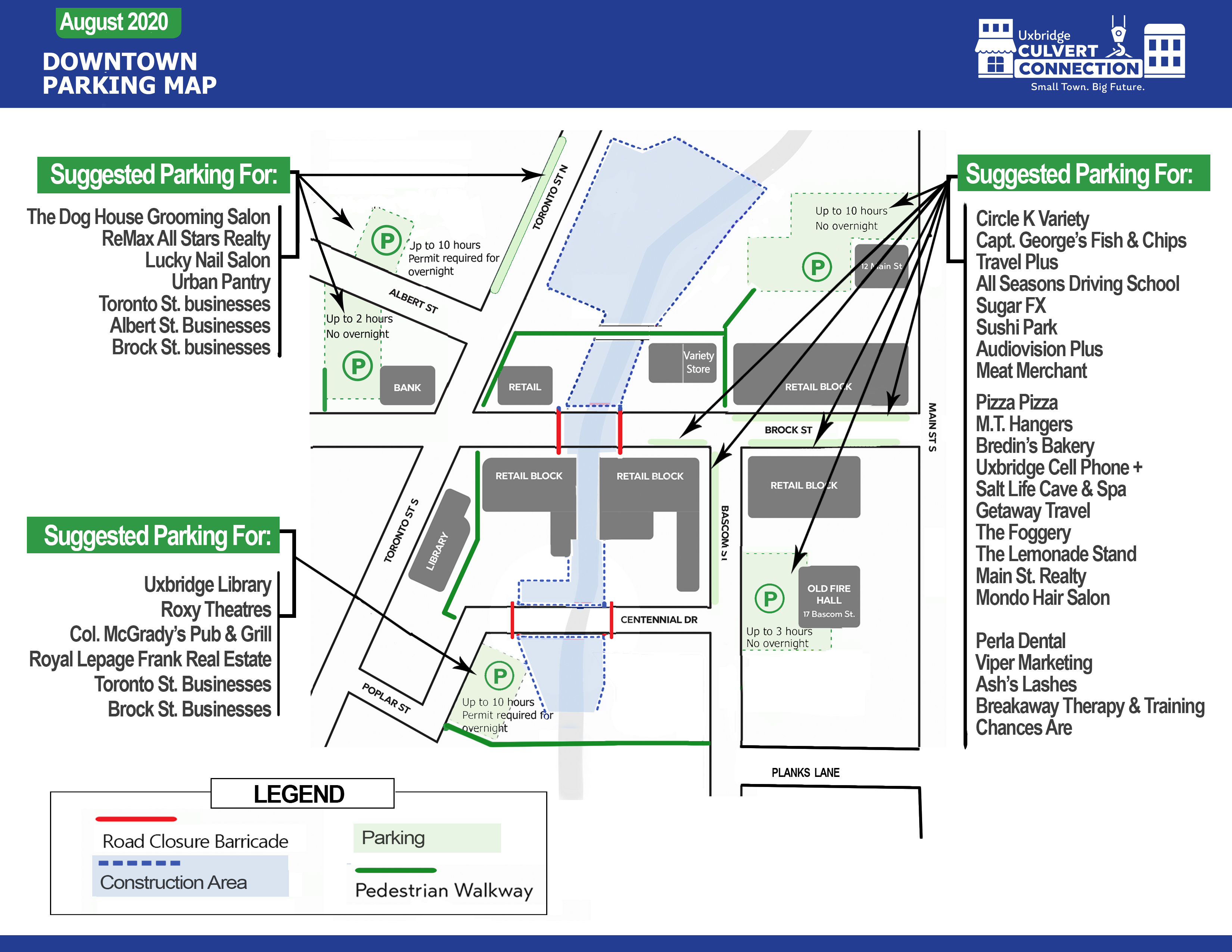 Posted on Tuesday, September 01, 2020 08:34 AM
No Pedestrians and Vehicle Access Across Uxbridge Brook
Construction of the Brock St. Culvert will close a portion of Centennial D. beginning Tuesday, Sept. 8th for 4 months. The road will be closed at the Uxbridge Brook where crews are working. Pedestrians and vehicles will not be able to cross the Uxbridge Brook on Centennial Drive until the road is reopened. For the month of September, both Brock St. and Centennial Dr. will be closed simultaneously.
Visitors to the downtown are advised...
Posted on Wednesday, August 26, 2020 02:28 PM
Whitby, Ontario – The Regional Municipality of Durham is pleased to announce additional support for businesses in Durham Region to expand their digital presence, adopt innovative tools and explore new training opportunities through Digital Service Squads, as part of the Digital Main Street (DMS) program.
Established in 2018, DMS Ontario was recently extended thanks to an investment of $42.5 million from the Federal Economic Development Agency for Southern Ontario (FedDev Ontario) and $7.45 million...
Posted on Wednesday, August 19, 2020 04:08 PM
The August 20, 2020 issue of Township page 2 from the Cosmos newspaper is now available for viewing.
Contact Us