Community Workshop – Concept Visualization and Discussion
The Township and the Downtown Revitalization Committee hosted a virtual presentation on Wednesday, November 24, 2021 where our project planners shared the results of the online design survey and their concept visualizations for the Downtown Revitalization Project.
View the Community Workshop - Concept Visualization and Discussion presentation and recording:
Three Ways to Have Your Say!
Public commenting is now complete.
1.

Help Us Redesign Downtown Uxbridge!

Tell us about our buildings, our streets, and our green spaces.

Visualization Survey - now closed

Visualization Survey Results

2.

What Businesses and Services Do You Want Downtown?

Resident Survey - now closed

Resident Survey Results to come

3.

Are You An Uxbridge Business Owner?

Business Owner Survey - now closed

Business Owner Survey Results
View the community workshop presentation and recordings of both workshops, where ideas were explored for the future downtown:
The Uxbridge Downtown Revitalization project (#myuxbridgedowntown) was launched in August of 2020 to develop a cohesive long-term vision for the downtown area. The Project will deliver a Strategic Plan and an Action Plan that will focus on the longer-term economic development and social well-being of the downtown. The project is made possible with a partnership between the Township of Uxbridge, the Region of Durham, the Ontario Ministry of Agriculture, Food, and Rural Affairs and the Uxbridge Business Improvement Area (BIA).
The project objective is to renew and improve the economic, physical and social well-being of Uxbridge's town centre by:
Strengthening local business and encouraging investment by property owners;
Creating enjoyable public streets and spaces animated by a variety of creative and civic activities; and,
Providing work and living opportunities that fulfil people's needs across a spectrum of ages and interests.
The Downtown Revitalization Plan will provide Council and staff with a strategic plan to guide future decisions, actions and investment that will improve the historic downtown area for residents, business owners and visitors.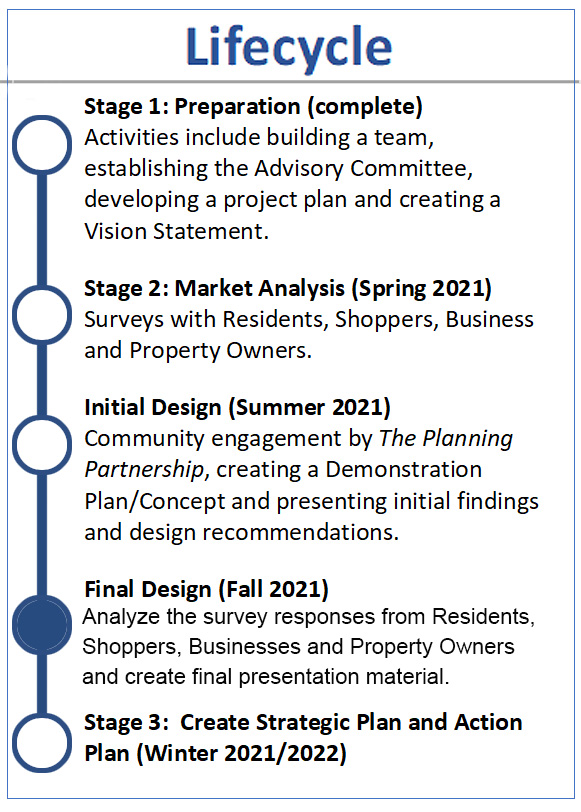 About the Project
#myuxbridgedowntown Study Area
The Downtown Revitalization Program area has been drawn to include key natural features of the Downtown core such as parks, trails, streams, and other naturalized areas. The area also captures the key business corridor and major road network feeding the downtown as well as key tourist locations.
The study area will be used to determine which business and property owners will be surveyed, and where customer and street surveys will be conducted.
Uxbridge Downtown Revitalization Advisory Committee
The UDRAC serves as an advisory body that promotes opportunities for engagement and collaboration within the community in support of the Uxbridge Downtown Revitalization Project (UDRP), also referred to as #myUxbridgeDowntown. Membership is determined by the Terms of Reference and is comprised of 9 community members, three members of Council and one representative each from:
Uxbridge Business Improvement Area (BIA)
Uxbridge Chamber of Commerce
Economic Development Advisory Committee (EDAC)
Tourism Advisory Committee (TAC)
Uxbridge Public Library Representative
Representative for Accessibility for Ontarians with Disabilities Act (AODA)
The Committee also includes resources from the Township of Uxbridge Public Works, Development Services, Treasury and Communications staff, Ontario Ministry of Agriculture, Foods and Rural Affairs (OMAFRA), Durham Region Economic Development, Durham Region Transportation Planning and the Lake Simcoe Region Conservation Authority. Other existing committees and groups, such as Heritage Uxbridge, the Age-Friendly Committee, Active Transportation, Youth Groups and the Uxbridge Town Trails Committee etc. will be called upon in an advisory capacity. Contact us for a list of committee members.
Vision Statement
The Uxbridge Downtown Vision Statement was approved in December 2020:
Uxbridge features a vibrant and thriving downtown that is rich in history and recognized as an inclusive and accessible community.
Reports and Studies
Downtown Uxbridge Flood Reduction
2020-2021 Agendas and Minutes
| | | |
| --- | --- | --- |
| October 1, 2020 | | |
| October 29, 2020 | | |
| November 26, 2020 | | |
| January 28, 2021 | | |
| February 25, 2021 | | |
| March 25, 2021 | | |
| April 29, 2021 | | |
| May 27, 2021 | Agenda | Minutes |
| June 24, 2021 | Agenda | Minutes |
| October 7, 2021 | Agenda | Minutes |
| October 28, 2021 | Agenda | Minutes |
Judy Risebrough, Project Manager
jrisebrough@uxbridge.ca
Contact Us