Posted on Friday, November 06, 2020 09:13 AM
As winter is approaching, the Township of Uxbridge is asking for your cooperation to help the snow clearing operations in our community go as smoothly and efficiently as possible.
Parking vehicles on the street in winter months can interrupt or prevent effective snow clearing operations. Snow plow operators clear snow as close to the curb as possible (or, where no curb exists, to edge of the travelled portion of roadway), but road obstructions, like parked vehicles, prevent this job from being...
Posted on Friday, October 30, 2020 04:17 PM
Sidewalk on north side of street open for pedestrians
Replacement of the Brock St. culvert underneath Brock St. W. is now complete and the road will reopen at 6:00pm on Friday, Oct. 30th. The sidewalk on the north side of the street is also open. Construction to replace the culvert continues south of Brock St. and Centennial Dr. remains closed until the end of the year.
Construction crews have paved the parking area north of Brock St. but that area will remain closed to the public as it is...
Posted on Tuesday, October 20, 2020 08:12 AM
Work is weather dependent
Construction crews will be working on Saturday Oct 24th in Downtown Uxbridge on the Brock St. Culvert project weather permitting.
For additional information on the Brock Street Culvert Project, please visit www.uxbridgeculvert.ca.
Posted on Wednesday, September 23, 2020 09:24 AM
Group size limited to 25 people
As of Sept. 19th, Ontario has lowered limits for unmonitored and private social gatherings across Ontario to a maximum of 10 people indoors (previous limit of 50) or 25 people outdoors (previous limit of 100).
To report a gathering of more than 25 people please contact the Durham Regional Police Service non-emergency number at 905-579-1520 or submit a complaint online at https://forms.uxbridge.ca/By-law-Complaint-Form.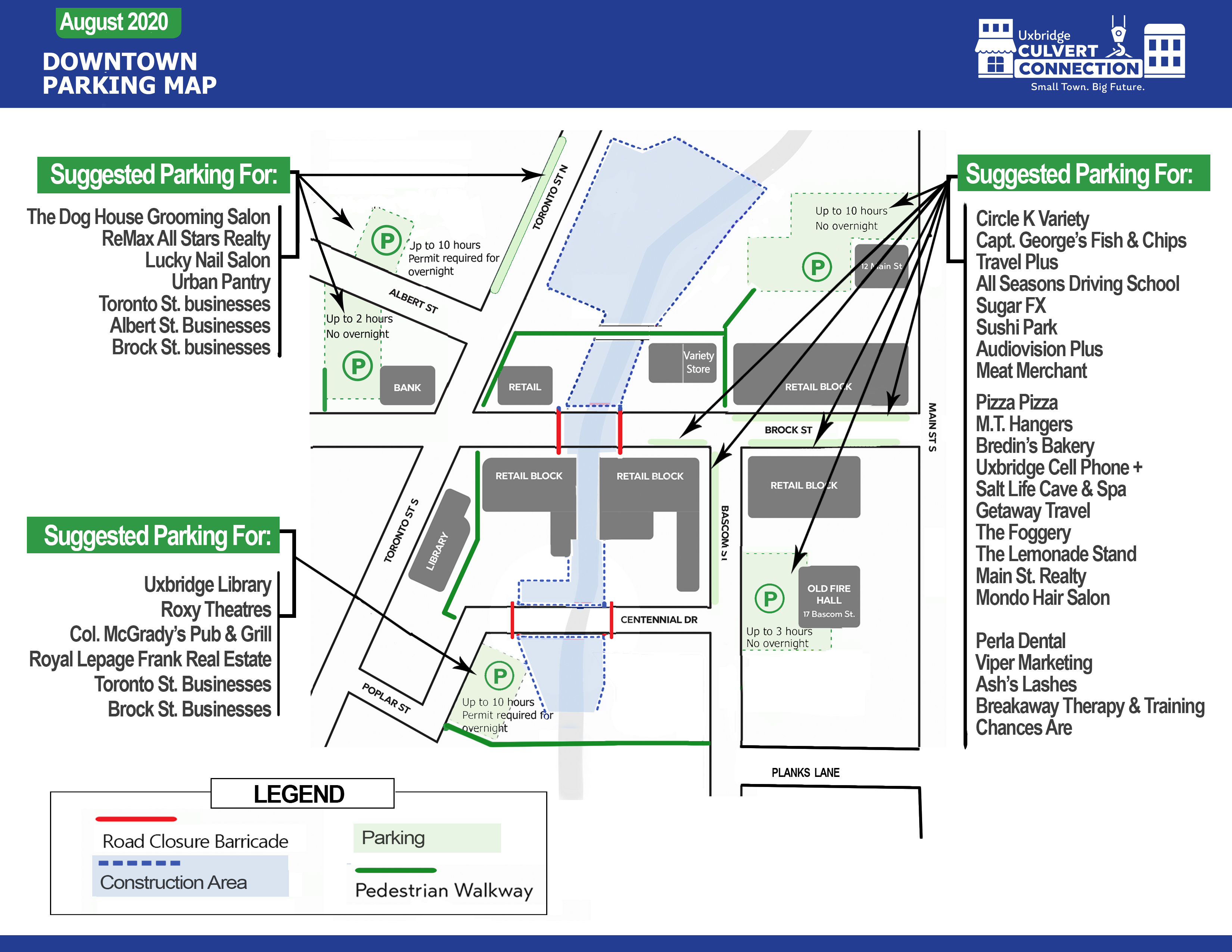 Posted on Tuesday, September 01, 2020 08:34 AM
No Pedestrians and Vehicle Access Across Uxbridge Brook
Construction of the Brock St. Culvert will close a portion of Centennial D. beginning Tuesday, Sept. 8th for 4 months. The road will be closed at the Uxbridge Brook where crews are working. Pedestrians and vehicles will not be able to cross the Uxbridge Brook on Centennial Drive until the road is reopened. For the month of September, both Brock St. and Centennial Dr. will be closed simultaneously.
Visitors to the downtown are advised...
Contact Us