Posted on Wednesday, November 11, 2020 01:34 PM
November 11, 2020
Brennan Paving and Construction has temporarily paused active construction on the installation of culverts south of Brock St. to check the impact of construction on adjacent buildings.
The Township of Uxbridge has requested additional engineering reports to better understand the situation. Obtaining updated data and information is often a necessary step in a construction project.
It is not been determined what impact the work interruption will have on the overall project schedule.
Posted on Friday, October 30, 2020 04:17 PM
Sidewalk on north side of street open for pedestrians
Replacement of the Brock St. culvert underneath Brock St. W. is now complete and the road will reopen at 6:00pm on Friday, Oct. 30th. The sidewalk on the north side of the street is also open. Construction to replace the culvert continues south of Brock St. and Centennial Dr. remains closed until the end of the year.
Construction crews have paved the parking area north of Brock St. but that area will remain closed to the public as it is...
Posted on Tuesday, October 20, 2020 08:12 AM
Work is weather dependent
Construction crews will be working on Saturday Oct 24th in Downtown Uxbridge on the Brock St. Culvert project weather permitting.
For additional information on the Brock Street Culvert Project, please visit www.uxbridgeculvert.ca.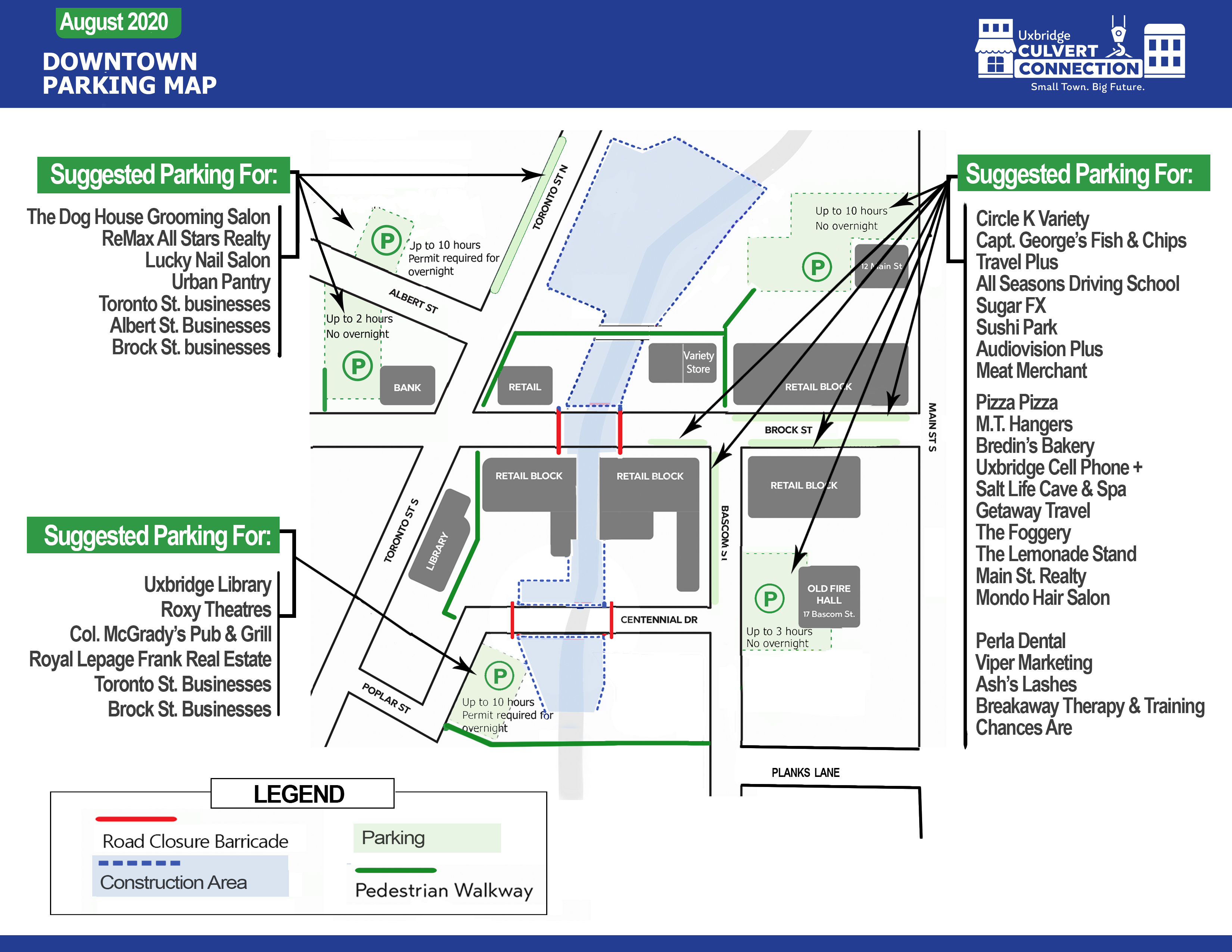 Posted on Tuesday, September 01, 2020 08:34 AM
No Pedestrians and Vehicle Access Across Uxbridge Brook
Construction of the Brock St. Culvert will close a portion of Centennial D. beginning Tuesday, Sept. 8th for 4 months. The road will be closed at the Uxbridge Brook where crews are working. Pedestrians and vehicles will not be able to cross the Uxbridge Brook on Centennial Drive until the road is reopened. For the month of September, both Brock St. and Centennial Dr. will be closed simultaneously.
Visitors to the downtown are advised...
Contact Us