Posted on Wednesday, September 23, 2020 09:24 AM
Group size limited to 25 people
As of Sept. 19th, Ontario has lowered limits for unmonitored and private social gatherings across Ontario to a maximum of 10 people indoors (previous limit of 50) or 25 people outdoors (previous limit of 100).
To report a gathering of more than 25 people please contact the Durham Regional Police Service non-emergency number at 905-579-1520 or submit a complaint online at https://forms.uxbridge.ca/By-law-Complaint-Form.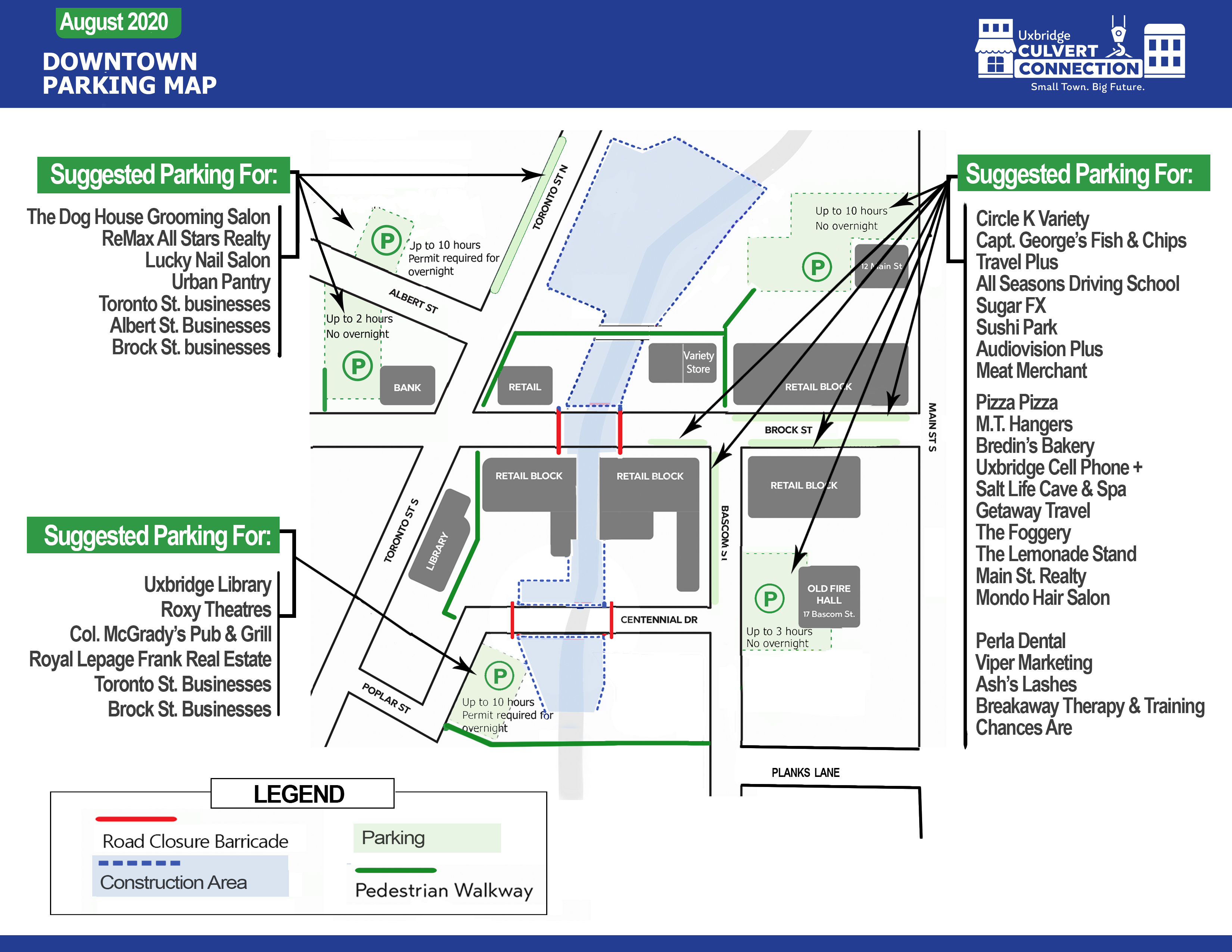 Posted on Tuesday, September 01, 2020 08:34 AM
No Pedestrians and Vehicle Access Across Uxbridge Brook
Construction of the Brock St. Culvert will close a portion of Centennial D. beginning Tuesday, Sept. 8th for 4 months. The road will be closed at the Uxbridge Brook where crews are working. Pedestrians and vehicles will not be able to cross the Uxbridge Brook on Centennial Drive until the road is reopened. For the month of September, both Brock St. and Centennial Dr. will be closed simultaneously.
Visitors to the downtown are advised...
Posted on Wednesday, August 19, 2020 04:08 PM
Posted on Thursday, July 23, 2020 09:12 AM
The July 23, 2020 issue of the Town Page in the Uxbridge Cosmos newspaper is now available for viewing.
Posted on Friday, July 10, 2020 02:56 PM
Pedestrians routed across construction on new walkway
Construction work has been proceeding on the Brock St. culvert and the contractor will begin excavating across Brock. St. the week of July 20th. The work will close sidewalks on both sides of the street simultaneously. The contractor has created a paved walkway that connects Toronto St. with the walkway beside Circle K Convenience Store to provide a means for pedestrians to access the entire street.
"Closing the sidewalk on both...
Contact Us